Completed Food Hygiene Certificate Level 2 training before? - Welcome to FastTrack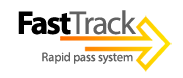 FastTrack is a unique and innovative development.
If you have been working in the industry for a while, FastTrack will enable you too quickly gain access to the final exam.
Many experienced caterers do not want to spend 8 hours in a classroom and are looking to quickly refresh their knowledge, pass the exam and receive their certificate.
The system allows you to immediately take a mock test (FastTrack). If you pass, (25 out of 30 questions), it unlocks your final exam.
If you fail the test, the system will show you your personal learning target areas, with the below traffic light system to show you both your knowledge strengths and weaknesses.
Green - Knowledgeable enough to take the exam in that area of learning
Amber - Watch the relevant chapter videos
Red - Recommended you study the chapter in full (videos, written guide & questions)
If you are new to the industry or have never taken this type of training before, we do strongly suggest that you complete ALL the learning before taking the test.
Please remember it is about understanding and implementing food safety into your role and business, it is not just about getting a certificate.