View Demo Chapter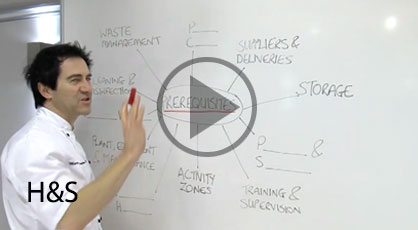 Health & Safety in the Workplace
Level 2 award
Accredited Level 2 Health & Safety in the Workplace for all catering & hospitality sector staff. This flexible online video-based course following the approved UK syllabus is filmed on-location in a commercial kitchen and hospitality premises.
Fully accredited by QUALIFI, an OFQUAL regulated UK Awarding Organisation, this course provides an in-depth understanding of a range of threats to the Health & Safety of catering and hospitality workers focusing on kitchen and goods-in/moving vehicle hazards. Includes basic risk assessment, how to minimise threats to personal safety, and emergency First Aid essentials.
Includes FREE unlimited online exam entry leading to a nationally recognised qualification (Endorsed Award) from OFQUAL regulated Awarding Organisation (certificate available as PDF download), and staff progress tracking system with every multiple purchase. (We recommend you compare these benefits carefully with those offered by other providers).
What does it cover?
This course covers the nationally approved syllabus and content for Level 2 Health & Safety in the Workplace. It has been specially adapted and accredited for catering and hospitality workers. It includes the following highlights:
Latest Health & Safety in the Workplace Law
How accidents in the Workplace occur and working with RIDDOR
Formal and informal Risk Assessment and the 5 step assessment plan
Working with Hazardous Substances and COSHH guidance
Reducing Manual Handling injuries through good lifting technique
Working with equipment, knives, and emergency electrocution First Aid
Noise stress and violence in the workplace
Fire Safety Awareness and what to do in the event of a fire
This course has...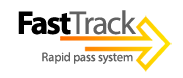 Click to see more about FastTrack
Quality assurance...


Proud suppliers to





Dig a little deeper
Many online courses offered don't have the backbone the nice looking website try make them look like they have. We have added this section to allow you to see what we have behind our awards and how hard we work to give you the highest standard we can possibly achieve.
Frequently Asked Questions
Do I need health & safety training?

Does the training have to be an accredited Level 2 course?

Will an EHO accept my Level 2 health & safety certificate?

Do the courses have 'use-by' dates?

Is the Level 2 health & safety certificate instant?

Why should I buy your Level 2 health & safety course?
Our Customers Said
"BRILLIANT COURSE"
Brilliant course, I done it over the course of a weekend and passed first time. I would definitely recommend it
by NoahFournier213

"5 STAR TRAINING COURSES"
I've taken 4 courses & my staff 4 courses 5 star training courses recommend highly
by LunchboxHalifax148

"EASY AND FAST!"
Fantastic experience, easy and fast to learn. Thank you!
by IzaiahGarcia166

"EASY TO FOLLOW"
Completed this course yesterday, i found it very informative with easy to follow instructions, and actually quite enjoyable. Each section was compiled into easy to absorb pieces, i particularly found the fire section very in depth. i would definitely recommend this to other colleagues and friends as it is quick to do in work time,or finish at home in the evening.
by Alix291

"USER FRIENDLY SOFTWARE"
This e-learner course was very good, I learnt a lot. The e-learning Software is user-friendly,easy to navigate. I can recommend The Safer Food Group to other customers to do the Health & Safety course.I am delighted with this course as it was an eye opener in many areas.
by Gleasonry336

"I WOULD ENCOURAGE
EVERYONE TO DO THIS"
I found this course really easy to do and very informative.
I would encourage everybody to do this as its really helpful information to know especially in the hospitality industry and also for yourself when you are going out for food.
I recomended other staff members at work to do this course and they were surprised on how long it took to do.
by Bambii