View Demo Chapter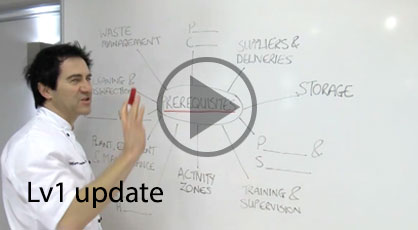 Food Hygiene Certificate
Level 1 award
Accredited Level 1 Food Hygiene Essentials course following the national Level 1 syllabus. A flexible online video-based course filmed on-location and suitable for food demonstration or concession staff, warehouse personnel, and all other staff working in low-moderate food hygiene threat environments.
Fully accredited by QUALIFI, an OFQUAL regulated UK Awarding Organisation, this quick-to-complete course covers essentials such as Approved hand-washing technique, the Danger Zone, and avoiding cross contamination.
Includes FREE unlimited online exam entry leading to a nationally recognised qualification (Endorsed Award) from OFQUAL regulated Awarding Organisation (certificate available as PDF download), and staff progress tracking system with every multiple purchase. (We recommend you compare these benefits carefully with those offered by other providers).
What does it cover?
This course covers the nationally approved syllabus and content for Level 1 Food Safety Awareness including the following highlights:
Basic essentials of food safety law guiding safe food preparation
Threat of pathogenic food poisoning bacteria and how it multiplies
Awareness of physical and chemical contamination threats
Using temperature to control food poisoning bacteria (cook, chill, reheat)
Basic awareness of allergenic food ingredients
Personal Hygiene guide including approved hand-washing technique
Basic cleaning and awareness of food pest threats
Proud suppliers to




Dig a little deeper
Many online courses offered don't have the backbone the nice looking website try make them look like they have. We have added this section to allow you to see what we have behind our awards and how hard we work to give you the highest standard we can possibly achieve.
Frequently Asked Questions
Which level of training is relevant for me?

Do I need training to work with food?

Does the training have to be an accredited Level 1 course?

Will an EHO accept my Level 1 food hygiene certificate?

Do the courses have 'use-by' dates?

Is Level 1 a Basic Food Hygiene certificate?

Is the Level 1 food hygiene certificate instant?

Why should I buy your Level 1 food hygiene course?
Our Customers Said
"EASY, QUICK AND INFORMATIVE"
The course was set out in an easy to use way. The information was presented in text and video form, to accommodate for different types of learners. The text layout was easy to read and navigate through, and the videos consisted of relevant information and some humour (great addition).
by KamariMcDonough